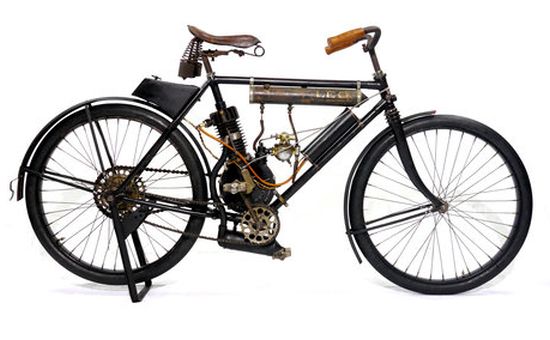 If you are one of the diehard classic automobile collectors, then this 110 year-old Rambler Model B from the Indian Motorcycle Museum is surely for you. The remarkable and original piece of automobile engineering from the bygone era, this Rambler Model B from the year 1902 is coming to Bonhams' third annual Las Vegas Motorcycle auction.
The incredibly rare bike with original 1905 Leo Two-Cycle was made by the L.A. Mitchell Motor Company of Oakland, California. The Rambler Model B that was once thought to be extinct has historical importance beyond its extreme rarity: the vehicles made by the Californian company are rare at first, Leo was produced only in 1905 apart from earliest surviving example of an American two stroke motorcycle.
The lightweight motorcycle with compact motor uses motorcycle frame and was purpose built. The bike was recently discovered in New English Museum's warehouse where it was on rest for several decades. The 107 years old Leo motorcycle, however, has freely turning motor, strong compression as well as original components that include spokes and rims, pedals and Troxel leather saddle.
If you want to bid for this ultra rare bike, you need to be at Bally's Hotel & Casino in Las Vegas on January 10, 2013 where it will join the other noteworthy motorbikes like 1939 BMW Rennsport Kompressor and Steve McQueen's 1970 Husqvarna 400 Cross etc.