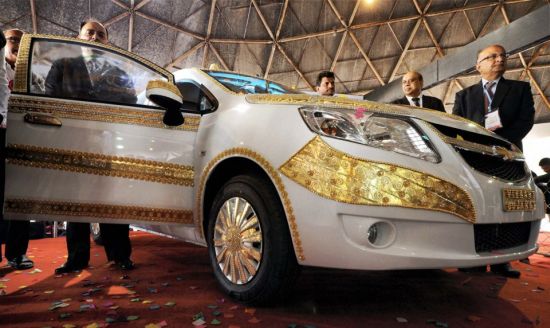 While the gold plated cars are often spotted in Russia, in the gulf countries and most recently in China, India is never known for gilded cars. However, now we are going to introduce with you a gilded car from India. Well, rare but true.
The center of attraction at the ongoing Gujarat Global Trade Fair 2013 in Gandhinagar, the Chevrolet car has pacifically been designed to incorporate thousands of Swarovski crystals, 3kg of gold and 25kg of silver to give it a distinct look altogether.
Created by the jewelers of Gujarat, the total cost of the car is rated at 2.05 crores. The gilded car will be on display at the exhibition till 13th of January 2013 and it will be auctioned thereafter. The making of this car has a noble cause as all the proceedings from the auction will go to the chief minister's fund.