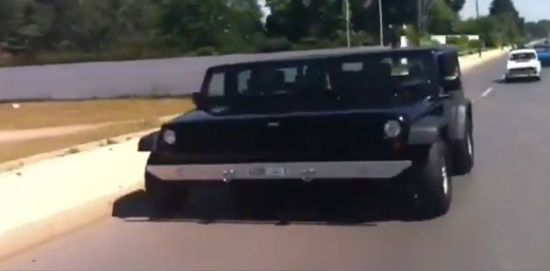 The rich and famous auto nerds across the globe with pockets deep enough to support their desire often come out with some creations that leave us, the less creative souls, flabbergasted. However, celebs or rich people in the west have nothing on the rich oil barons and international magnates if we talk about pimping their rides up. Well, yes, wanna know how? Read the following lines.
What looks like a different vehicle altogether, the pictured above is a pimped ride and it's one-off-a-kind for it blends two Jeep wranglers into one. The odd vehicle seems to merge two off-roaders from front to back but it has six wheels instead of four – two each at front and rear end and two at the mid of the vehicle.
What can really be deemed as the Super Jeep was spotted in Morocco a couple of days back is owned by a Gulf-state diplomat and needs almost double the space of a normal car on road. Hit past the jump to check this weird jeep in action.