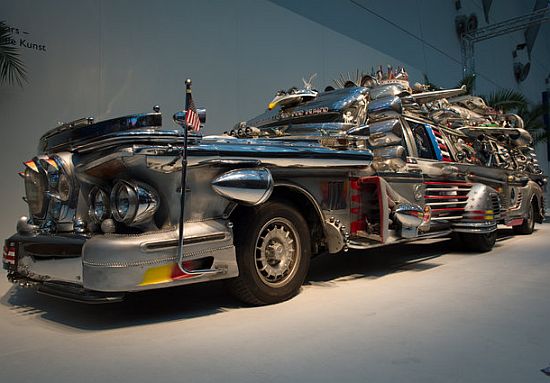 A giant limousine made heads turn at the Essen Motor Show in Essen, Germany, not because it weighs 7,500 pounds or is 29-foot long but owing to the fact that it's made completely out of junk scraps. Dubbed as Finnjet, the unusually striking vehicle is the creation of Antti Rahko, a 72-year-old Finnish immigrant to the United States, who has been working for 12 years to bring his plans to fruition.
Made from two old estate Mercedes-Benz 300 TD and 40 other cars' parts, the amazing car includes 86 projectors, 36 mirrors and three rechargeable batteries. Finnjet further flaunts televisions, refrigerators, 2 air conditioning systems, a microwave, a kitchen stove and a sauna to allow 10 passengers at a time to loathe in luxury. The diesel-powered vehicle consumes 9.4 liters of fuel per 100 km. Moreover, it relies on two jet engines, three batteries and three alternators to keep running on the motorways.
Recently, the car was well appreciated at the Art Car Parade competition in Houston, which helped it win a prize there. Soon it will go up for sale. Asking about price? Well, we seriously need to wait to know about its actual asking price; however, if we consider the fact that it was insured for $1 million for its trip to Essen, it's bound to be a costly affair for sure.