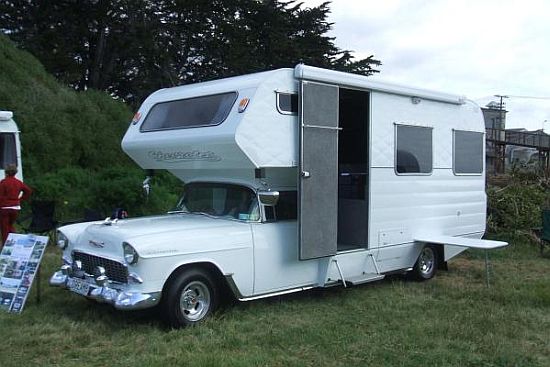 What better way to celebrate Christmas and a New Year than to take your family out on a recreational vehicle. However, only a selected group of people with a great penchant for older models of cars is inclined to travel in vehicles, such as the one pictured above. Matt Gillespie is one such ingenious person who has converted a 1955 Chevy into a stylish campervan for the purpose. The Chevy Campervan can rightly be described as an old automobile with all its exquisiteness and class draped in new attire for modern avid camping people.
While many car leasing options might offer you vehicles instantly for new expeditions, but using one you hand built, while taking care of all your and your family's needs and requirements, offers you a different feel and makes you even more keen to explore new sites every time you sit behind the wheel to start a fresh tour. The Chevy campervan is a perfect example that defies modern camper vans for all form sans function.
We can imagine that the conversion of Chevy car from the year 1955 into a modern looking campervan might surely have taken a long time and undoubtedly, great efforts. We can see that the creator has chopped and molded every part of the car other than its front, which still shows the true beauty of this classic car. The addition of the enlarged roof and windows on each side of the campervan makes for more space as well as refined view of the vicinity to the occupants. Moreover, the classic form of the vehicle completes the whole conversion.
If you aren't as creative as the owner of this vehicle is or you do not have that much of free time with you to spend in converting a car to suit your modern and technology-dependent comforts, you need not to worry. There are organizations like Lex Autolease that offer you varied options to suit your purpose to start a fresh tour, but owning a vehicle like 1955 Chevy campervan will always add more to your feel and make people turn their heads wherever you drive it.