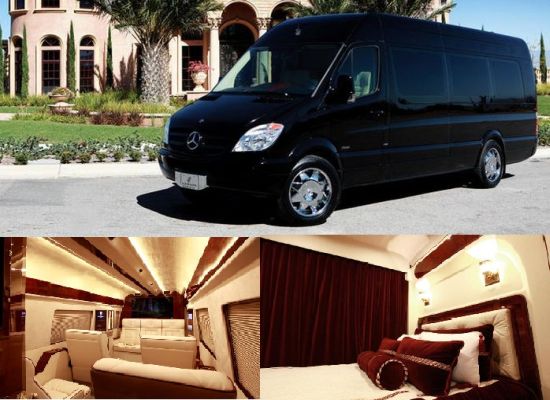 Mercedes Benz Sprinter van isn't something we don't know anything about. Sprinter already redefined 'luxury' when it hit the market. Though all Mercedes vehicles are perfect and usually come equipped with all the things that a luxury loving nut would fall for. But owing to the fact that there always remains a scope for improvement in everything manmade, Mercedes Sprinter isn't among the exceptions either.
The whole concept of the vehicle has been turned upside down with unparallel tuning performed by Lexani Motors. Offering the pleasing level of features, Lexani Motors not only takes the passenger version to a whole new level but also transforms the commercial van into what can really be called as a proper luxury vehicle than merely a combination of certain tools. The vehicle is now more fit to carry the passengers who crave for that bit more thing every time.
What really makes it redefines luxury on four wheels includes a 46" LED TV, intercom system, Alpine audio system with 1000 watt of power, redesigned cabin architecture which is embellished with special wood and leather and LED ambient lighting. Other goodies included a Playstation 3, a bar and two power seats similar to business class.
The long list doesn't stop here and optional things also include 24k gold plated details, 22 inches Lexani Wheels and tires, TracVision Satellite system, wireless internet connection, iPad, iMac and luxury electronic blinds and much more. As you know that all these goodies doesn't, obviously, come cheap and all the expected customers have to shell out a cool € 215,000 ($292,000 at the current exchange rate) for the  Mercedes-Benz Sprinter customized by Lexani Motors.