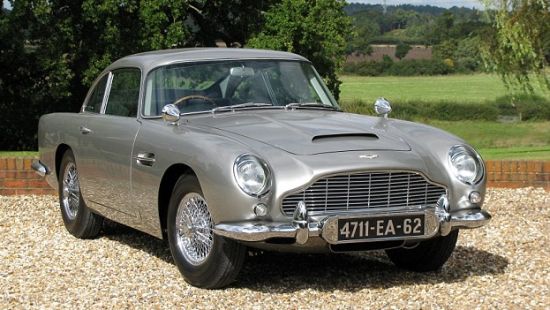 What is it that can bind a 007 movie fan with Aston Martin cars? Of course, an Aston Martin DB5. What if it's one of the four ever built for the James Bond movies Goldfinger and Thunderball, starring Sean Connery? The offer becomes even more lucrative if the car is one of the two, out of four ever built, that were equipped with Q Branch's famous gadgets.
What we are talking about is a 1965 Aston Martin DB5 that was originally built for the said two movies. It comes complete with revolving number plates that can switch between British, French and Swiss plates, tire slicing device, hidden car phone and radar, passenger ejector seat, anti bullet vertical screen and two machine guns behind front indicators.
Under the hood of this Aston Martin DB5 from the mid sixties is a 4-litre engine capable of producing around 280bhp that enables it to reach a top speed of 150mph. With spectacular cinema history and gadgets that were uncommon in the era it was built or even today, the said DB5 was never used in a film but for the promotion of Thunderball ahead of its release.
If you are one of the ardent 007 movie fans and always dreamt of owning a real car from the movie, the 1965 Aston Martin DB5 is put up for the grabs by Surrey-based Aston Martin specialists RS Williams for a staggering £3million which is 10 times the price of a regular model. Keeping in mind that it's 'the most famous car' in the world and being unique with original gadgets and rich history the price doesn't seem beyond imagination. However, it's just that only those with hoards of cash can drive it home.