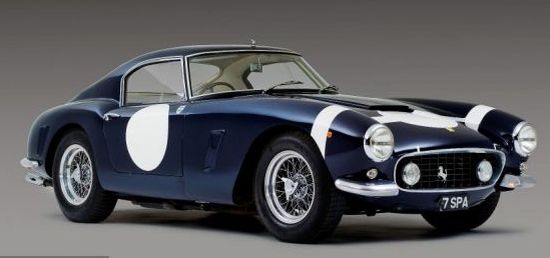 Ferraris are always the class apart – be it design, performance or the ease of driving. These are the reasons why Ferraris are loved all over the world. Apart from regular road going Ferraris, there are some classic models that have more worth than one can really imagine. Owing to the fact that some of the models have rich history and not only has many records under their belts but also were one of the most sought after cars of the time, they are sold for millions at various auctions.
The model that we are talking about at this moment of time is Ferrari 250 GT SWB aka 2119 GT with its chassis no 2119 and it was the 39th model. What adds more to its importance is the fact that Sir Stirling Moss drove it to three consecutive victories in 1960, whereas Mike Parkes also drove it to next three victories and a second place in the following year.
The car was formally owned by businessman Nigel Corner since 2003 and was sold in a private auction in the last six weeks. The news just came up with James Cottingham who is a specialist in vehicle acquisition confirming that the deal took place but refused to confirm the price. However, it's expected that 2119 GT is sold for well beyond £7million mark, reports Dailymail.
One of the most important Ferraris in existence was ordered by Rob Walker in 1960 for Moss to drive in the Tourist Trophy. It was equipped with 3-liter V12 engine that develops 300bhp enabling it to sprint from 0-60mph in 6.2 seconds with its top speed 152mph. The prancing horse with rich history and driven by as great personality in racing history as Sir Stirling Moss, the £7 million price tag seems all but imminent. If reports are to be believed, the said price tag makes it most expensive car sold in Britain.