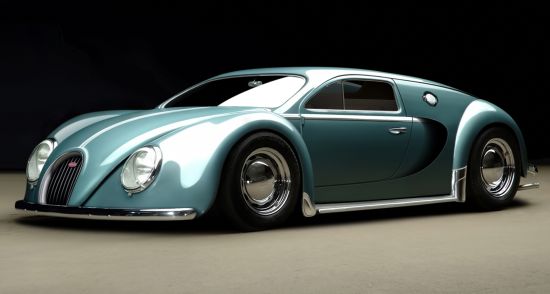 While there are many creative people across the globe who always strive hard to create something different, but their imaginations aren't always as cool as the one pictured above. The digital renderings from creative souls at RC82 Workchop who often come with such things, the above concept is from Polish artist(s) and it looks cool,  isn't it?
If you ever thought what will come out if Bugatti Veyron will make love to VW Beetle, just examine the image minutely and you will get the answer. The artists have taken a lot of care before blending design cues of original Volkswagen Beetle with Bugatti Veyron. It seems that artists just want to show the relation of two legendry cars with its maker.
What otherwise seems to be a funny creation but the classic Beetle parts ranging from deep-dish steel wheels to bug eyes, window frames and exterior door hinges incorporated in Bugatti Veyron hypercar makes it an imagination with difference. However, I am really confused what should I call it. If you have a better name, please feel free to suggest it in the comments.