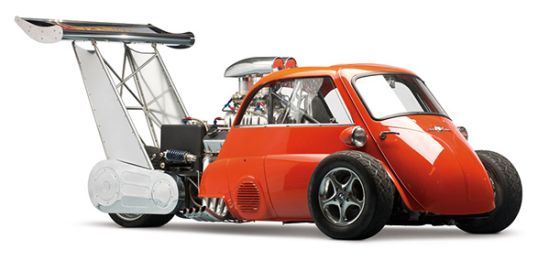 Toy cars inspired from the top luxury or sports cars models are quite common. However, a muscle car inspired from a toy car isn't. But things do happen in the auto world where some auto freaks never mind to take inspiration from anything and anywhere. This is what happens here too.
Most of the younger generation auto fans might surely not know about the BMW Isetta bubble car – a microcar sold in Europe in 50s. Then Hot Wheels got an eye on it and created a toyish version of the BMW Isetta dubbed as Whatta Drag that won millions of hearts including most famous collector Bruce Weiner.
Bruce Weiner was so fascinated by Hot wheels 'Whatta Drag' toy that he went on ordering the real life version of the same on 1959 BMW Isetta platform. This is how the things started but the drag racer has 730hp Chevy V8 heartbeat which is mated to a two-speed manual transmission. What doesn't made to be an eye candy, but the fully functional drag racer is equipped with dual circuit disc brake system and AP balance bar.
This is not all and in order to keep it close to the BMW roots, the BMW Isetta – Whatta Drag racer features M3 suspension, BMW roundel logo shines on chromed five spoke alloy wheels wrapped in B.F. Goodrich G-Force tires at front, while the rear one is a custom 18X13" drag racing wheels draped in a Sumitomo HTRZ II tire.
BMW Isetta – Whatta Drag racer is the part of Mr. Weiner's massive microcar collection that will hit the block in the mid of this month in Georgia at Bruce Weiner Microcar Museum and is expected to fetch anything between $75,000 and $100,000 before hammer finally falls.