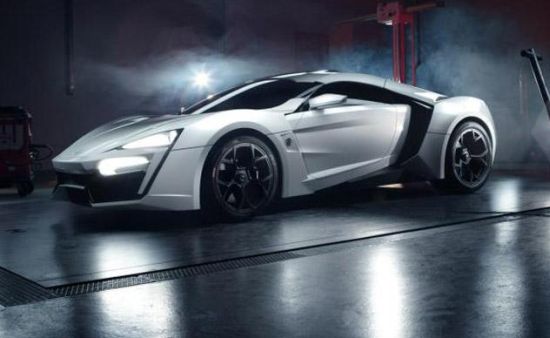 Revealed at the Qatar Motor Show, the new supercar from the Beirut-based W Motors, Lykan Hypersport, enters the supercar league with a bang. The Lykan Hypersport car is unique for reasons being many. It's a $3.4 million price tag which makes it the most expensive car, leaving behind the current aspirant for the title, Lamborghini Sesto Elemento priced at 2.5 million.
Secondly, it's the world's first car to have the diamond encrusted LED headlights which can also be customized with rubies, sapphires or emeralds, provided you have ample money to support your desire. One the top of this, Lykan Hypersport's interior is embellished with gold-stitched leather which adds more to its exclusivity. Lykan Hypersport also comes with limited edition Cyrus Klepcy watch worth $200,000 and also features a instrument panel with Virtual Holographic Display to convince you.
The supercar isn't just all show and no power. It comes equipped with mid-rear mounted twin-turbocharged flat-six engine (possibly sourced from Porsche) capable of generating a cool 750hp which enables it to sprint from 0-62mph in 2.8 seconds with its top speed at 245mph. Lykan Hypersport will be a limited run of seven cars that will be numbered separately and will have delivery date stamped on it.
Source: W Motors