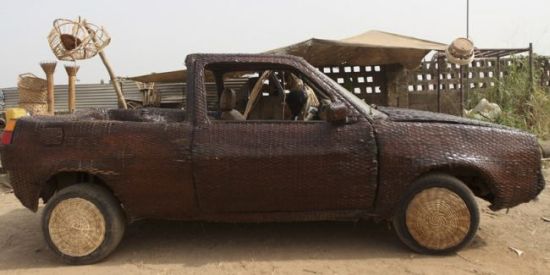 Creativity knows no bound, only sky is the limit. This is proved yet again by an ingenious Nigerian, Ojo Obaniyi, 40, from Ibadan, who has done an amazing job by wrapping an old Volkswagen Caddy pickup in new attire. Ojo Obaniyi with more than 20 years of experience weaving Raffa cane covered the VW truck inside and out with Raffa palm tree.
Created as a mean of advertising his various other works or say business in particular and show his creativity, even the complex parts of the vehicle like dashboard and steering wheel are meticulously coved with wicker, with only exceptions of outside door handles, tiny load floor at rear as well as bulkhead between passenger compartment.
The impressive work of art, this wicker car is, undoubtedly, the real embodiment of Nigerian art. It proves that creativity isn't just the prerogative of educated people and it can even come from the uneducated lot of the society and that's the point Ojo wants to prove, other than promoting his business.
Via: Autoweek