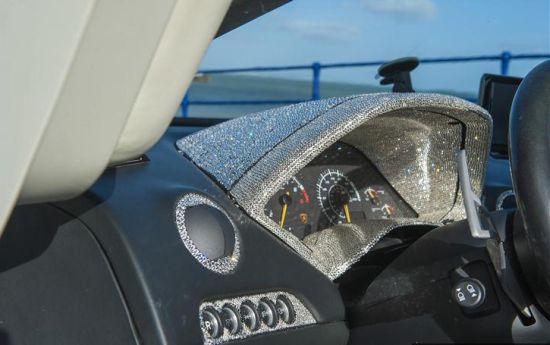 If bling is your thing and you love the Italian racing bulls at the same time, then this gilded Lamborghini Murcielago LP640 is for you. Unlike most of the other gilded cars with their exteriors decked with Swarovski Crystals or wrapped in gold, this particular Lamborghini is has blinged interior.
What otherwise looks to be a normal Lamborghini Murcielago LP640 from outside, but once you enter the car you are dazed with more than 15,000 Swarovski crystals that cover most of the car's parts inside like gauge cluster and air vents.
It seems the current owner isn't impressed with the interior of Murcielago LP640 and added some spice to the fierce bull that gives goose bumps to whosoever sits behind the wheel. Or, in other case, he might be having too deep pockets to support his desire which is excessive and unwarranted because it's unlikely that someone will notice the interior of a car.
Nevertheless, the other normal goodies of the car include pearlescent paint, air bags, power steering, powered windows, remote central locking, unmarked wheels, Bi-Xenon headlights, traction control, SAT/NAV, F1 paddle shift and 18″ Hercules Alloy Wheels. All the goodies are original and car was fully serviced three months prior, MOT.
if you want to own this  blinged Lamborghini Murcielago LP640, you need to spare a cool £109,995 and it will be sold on first come first service. So hurry up! Please find contact details here.