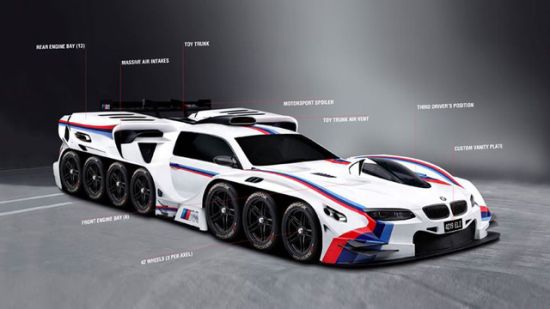 If you think you will fantasy any car and an automaker as great as Bavarian Motor Works will take fatigue to sketch it accordingly, you are right. Well, the story started on Jalopnik where a reader asked if it's possible to sketch the concept image of a car to his budding enthusiast nephew who just narrated his fantasy car to him. BMW responded positively.
The four years old nephew of the reader, Eli, fantasized a BMW with 42-wheel drive and 19 Porsche engines generating 459 bhp each. The huge car will be controlled by three drivers who can steer it simultaneously and it should have huge toy trunk with air vents and a huge space inside to play. Other details include that it should feature water-cooled turbocharged engines from boxer 6 mated to a single transmission.
What BMW came up with isn't the exact presentation of what Eli proposed but what's commendable is the fact that BMW kept the promise made on Tumbler to sketch the car named 4219 Eli, which also includes the name of the reader's nephew. The concept behemoth was revealed on BMW USA's Facebook page and we assume that Porsche powertrain couldn't be placed in it but it still include the air vents for the trunk to ensure some fresh air for the toys. Also, it's highly unlikely that BMW will ever put this on the market.