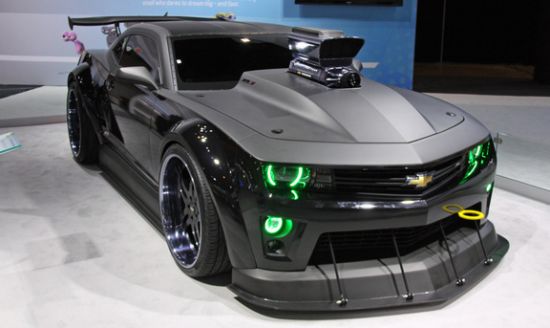 Revealed at the 2013 Chicago Auto Show, the Camaro you see here isn't just another Camaro but different, really different. It gets power from a supercharged L99 that generates a cool 400hp. This oversized Camaro you see above started life as ZL1 before getting a big Hollywood makeover to promote DreamWorks 3D animated movie, Turbo.
The vehicle is christened as "Turbo" Chevrolet Camaro and is used to promote the animated movie about a snail that has an overweening ambition to become a race driver capable of making cuts at Indy 500. This particular Camaro is an instrumental in transforming Turbo from snail to an ominous racer.
If you are thinking that the power figures provided here about the L99 engine are bit confusing, we rhyme with you. The reason being, L99 is a standard engine for Camaro SS with automatic transmission, whereas in manual the mode it gets LS3. In other case, ZL1 has a 6.2-liter LSA V8 engine that produces a huge 580 hp. So, it's safe to say it's not a ZL1.
Furthermore, the stock L99 without supercharger produces 400hp, which also implies that supercharged L99 is a bit ambiguous. Keeping in mind the above details, we assume that it might be a special edition created for the movie which we don't have any clarification about as yet. This makes things bit confusing for the Camaro and movie lovers.
Nevertheless, the supercharged Camaro is based on the movie character Turbo which is to hit the theaters by July 19, 2013. The other major details to count here include custom COPO hood, rear diffuser, rear wing spoiler, front splitter, customized LED headlights and black paint finish with vinyl chrome wrap. To spice up the racing thrill further in the movie called Turbo, the custom Camaro rides on 24″ tires at both ends that are 10" and 15″ wider at front and rear end respectively.