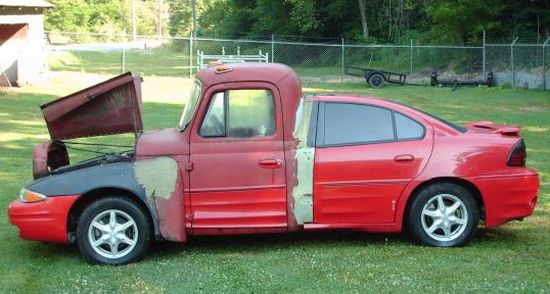 Some rat rods are made hot, some weird and some wackiest among wacky. Here is the one that comes in the last category. The wacky creation has been made on a Pontiac Grand Am body that has been chopped and converted in to something that really looks absurd. The driver cabin has been chopped and to fit in a truck part and that makes this bizarre looking car a real hybrid.
The vehicle has been named as 'International Truckcar'. Well, as long as specifications are concerned, be assured of good quality features that a car could offer. The Truckcar features front wheel driveline, disk brakes in all the wheels the and air bags that are in perfect working condition. With go anywhere capability, the vehicle also comes equipped with new alloy wheels, Oldsmobile dash with tilt cruise, all working lights, power seats and grandam door handles that makes it weirdly awesome.
At the rear end, the vehicle retains the Gran Am body and its original duel exhaust. The vehicle has been fuel injected and every part of the car is in working condition. So if you have love for rat rods, lives in Knoxville and want odd one parked in your garage, you can contact on number 606 456 7738. Pricing of the car is negotiable.