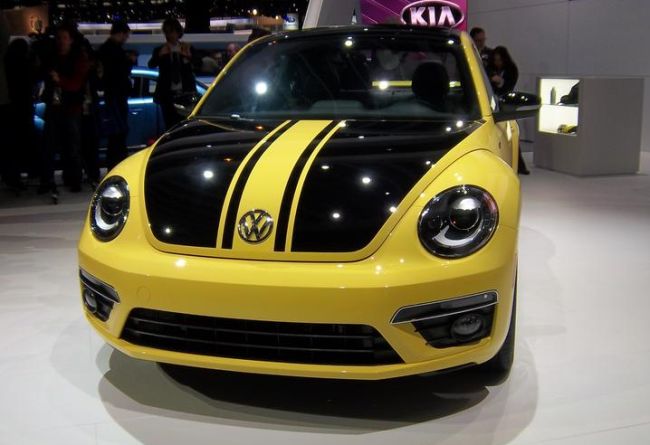 The ongoing Chicago Auto Show saw the wraps going off to Volkswagen Beetle GSR. This bug is unique for reasons being many. First, it's a tribute to the GSR famous during 1970s and secondly, it's the fastest production Volkswagen Beetle to date. It's going to be a tough call to drive one home as the special edition, as per Volkswagen, is limited to only 3500 copies worldwide.
Under the hood is the same turbocharged 2.0-liter four-cylinder petrol engine that the folks at VW have worked extra to milk 10 additional horsepower, thereby taking the power tally to 210hp. The extra power enables the car to sprint from a standstill to 60mph in a respectable 6.6 seconds, with its top speed at 130mph.
Volkswagen Beetle GSR wherein GSR stands for 'Gelb Schwarzer Renner' which in German language means 'Yellow Black Racer'. As a result, the limited edition model has GSR lettering paint along the sides with hug black accents. The color scheme continues in the cabin too and it features the matching interior accents, but in subdued form.
You will also find the leather seats with yellow stitching to match the color scheme and GSR badge on the dashboard. If the color scheme entices you and big spoiler at the rear end and huge black accents with matching yellow is your thing, you can go for an early booking to drive one home when it hits the showrooms this fall as 2014 model. No price details are made available as yet.