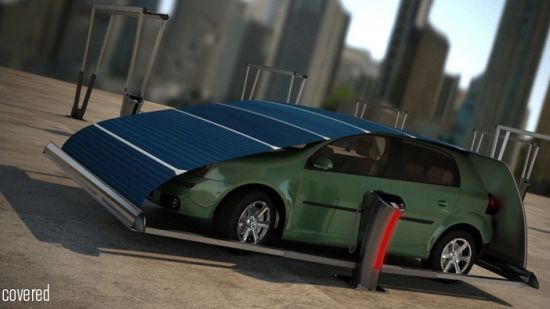 One of the major reasons why electric cars haven't gained ground so far even after their advent in the last decades of 19th century is their operating range. Secondly, the unavailability of charging stations also averts users to buy electric cars. These reasons leave buyers in a suspicion whether or not they will drive their cars back home. The automakers across the globe are trying their level best to develop batteries but they couldn't boast a great breakthrough in the field other than claiming it weighs less, lasts longer and charges quickly.
Along with automakers, the designers across the globe are also focusing on developing the innovative and environment friendly ways to reduce the gravity of the situation. One of them is Hakan Gursu from the Turkish design studio Nobis who has come up with V-Tent concept which is an innovative canopy that harvests solar energy to charge your electric car.
Designed in the form of a canopy, the V-Tenet is an eco friendly parking system that not only provides a safe place for your electric car but also charges it too. V-Tent can be set at your home or in the city. While in the city, it will rid the electric vehicle owner of the parking woes and will nullify the worries of it to run out of juice midway. The parking space is a space saving charging station with a space to park car and then pull over the folding canopy that also protects it from the environmental hazards.
V-Tent uses flexible solar cells that are fixed to a laminated multi-layered textile with micro ventilation tubes to protect canopy from overheating. Apart from this, it also has band light that indicates charge percentage and availability with color and length.  All the users need to do is to select the amount of time for parking and pay the parking as well as charging fee by card.
Via: Ecochunk / Inhabitat.com