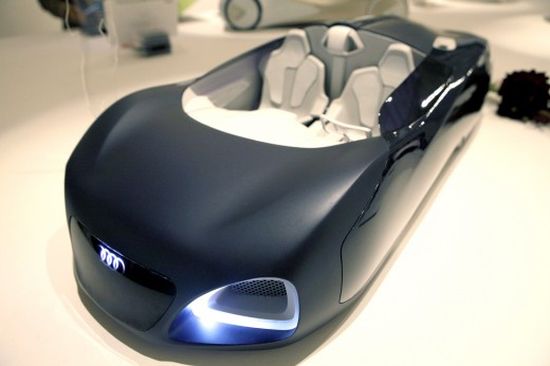 We have had already introduced you with Audi concepts in the past, the one here in question, however, is something different and unusual to what we usually come across. While this one is to attract you for sure as it has parts and details that are uncommon to even modern vehicles, and we assume something like this won't make it to the auto market at least in the next 50 years.
The concept is called Audi O2. The brainchild of Hyungjin Kim who is the design student at Hong-ik University, Audi O2 is presented as a project for 2012. The reason why we called it a different and unusual concept is it is equipped with a jet engine to provide it an immense power on the road. The designer also states that the concept will give the driver a chance to relax the power plant and it will also provide the magnetic levitation.
However, the designer didn't make it clear how it will be possible and the limited details we are provided with is Audi O2 concept combines the past and the future. Though the shape of the car is common and is possible to build but it contains the parts that aren't available today. From the images, we can make out easily that the concept has got massive front air intakes with oxygen turbines. The concept measures 4950 mm in length, 2050 mm in width and 1120 mm in height and seems too futuristic as it is highly unlikely that we will see anything similar anytime soon.