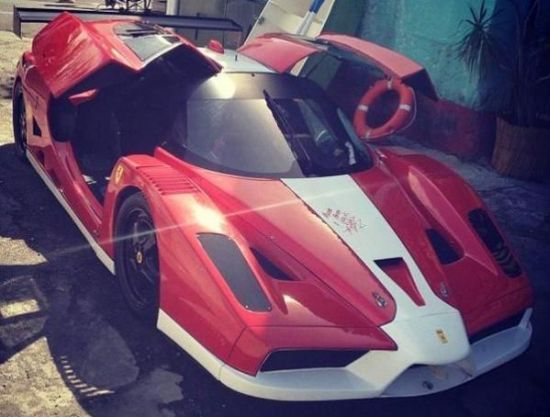 The first images of the Ferrari FXX to be used in the upcoming Fast and Furious 6 movie during Super Bowl gave enthusiasts an idea that the car is counterfeit. Now Ludacris, one of the actors to be featured in the movie, uploaded the image of Ferrari FXX on his Instagram account, thereby clearly exposing the car. The Ferrari XX from the movie which was earlier thought to be a real exotic is fake.
The details that confirm the red missile from the movie Fast and Furious 6 is a kit car include the headlights that don't belong to the real FXX in shape and tint but to another beast from Ferrari, Enzo. The real deal, on the other hand, doesn't feature fenders with vents on top or the rivets either. The hood of the replica also features rivets which isn't the feature of original Ferrari XX as well as you won't find the triangular shape of the hood and windshield matching the original prancing horse.
Though we don't know anything as to what served the base for the replica but would just like to recapitulate for the Ferrari fans that the original FXX features rear mounted, naturally aspirated 6.3 L V12 engine which is capable of generating a cool 800hp. The engine is aligned with an F1 inspired six speed sequential gearbox that delivers the gear change time less than 100mm.
After all the distinctions made, it remains to be seen how Ferrari reacts to the movie that uses a replica car with prancing horse on it. Ferrari has usually come hard on such things in the past, so the things are expected to heat up in the future.