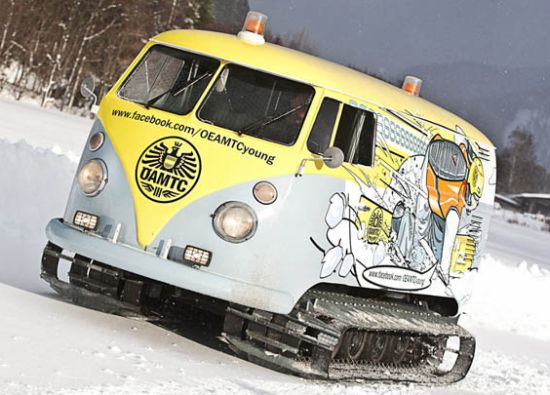 In order to create something unique and different that others haven't even thought of, all you need is a creative mind and, above all, patience. Bernd Berger and his crew have all these traits in plenty. They started work on the 1966 Volkswagen T1 bus and a Bombardier snow groomer from the 1960 four years ago to create this snowbound DJ party rig at a cost of €60,000.
The herculean task to combine two machines together is a process marked with chopping, cutting and fixing various parts of the snow groomer to VW T1 bus. The main problem faced was the body of the VW; however, it was solved by retrofitting the bus with lateral steel bars and welding the front door with the body that left only sliding door on the passenger side a way to get in.
The crew didn't stop here and showed its ingenuity by adding heavy duty pneumatics to a platform that takes the DJ and his gear 10 about feet high in the air. To keep everything dry, the team used a custom plastic roof. Now you might surely be thinking as to what powers this arctic ready and beach friendly DJ booth, dubbed Slope Device? The choice for the engine is wonderfully odd too as it gets Ford Taunus V4.
Even more impressive is a 1,000-watt subwoofer, a five-channel Behringer mixer and two Technic 1210 turntables to keep the party rolling. The system uses vital juice stored in Honda Generator and the setup becomes ready to rock in merely 3 minutes. However, it takes too long to reach the place as the stylish Slope Device has a top speed of 9 mph which owes to its more than two tons weight.