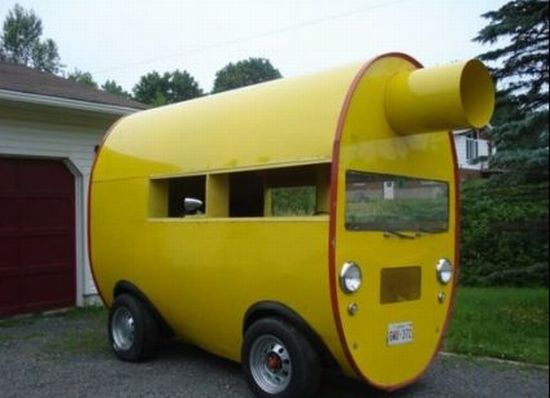 All you auto enthusiasts out there, I hope you all are aware of Mufflermobile phenomenon as you might have seen a few on the road occasionally. However, the one here is really to attract you like anything; particularly those who can appreciate vintage jeeps in any form.
The Mufflermobile you see here is a 1948 Willys Jeep CJ2A in disguise and has a great charm to really standout in the crowd.  The old jeep is licensed to drive and has got its body replaced with custom-built wood frame and aluminum skinned replica of a Muffler.
Most of the Mufflermobiles are built flatter. However, the eight feet high, eleven feet long vehicle has been designed Muffler in the upright position. Flaunting a different look, this one passenger vehicle might be little unsafe. However, considering the fact that it has a top speed of 28mph, it wouldn't be a big issue.
So, if you are looking for a different vehicle to drive around in, you have a bright chance to own it as the vehicle is up for the grab at eBay for a cool $7800.