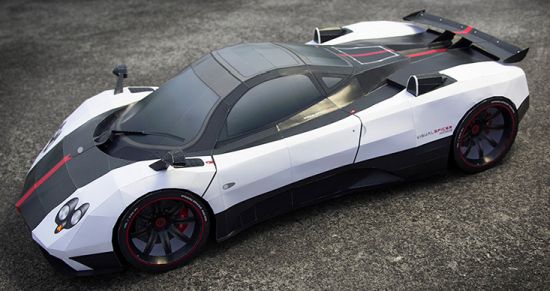 Crafting an exact model out of paper isn't all that easy. All you need is a creative mind, eyes to the details and very skilled hands to make something that everyone can appreciate. It seems Taras Lesko aka Visual Spicer is endowed with all these abilities and he usually creates amazing paper-craft models that resemble real one every bit.
After impressing us with his immaculate paper models that include a Bugatti Veyron, Audi and a Monster Craft, another spectacular creation from the Seattle based artist is based on his all time favorite super car, Pagani Zonda. Just check out the images after the jump and it's just not print it out and stick it to your monitor thing but an impressive model that any Tom, Dick and Harry would surely find difficult to build.
What I found impressive about this 2.5ft long paper Pagani Zonda is the fact that building sleek and curvaceous supercar like Zonda from paper model is really a herculean job than any other car like a VW or a Citroen FAF. Detailing the difficult part like vents, scoops, sweeping arches, wings and many others and molding and painting paper for the purpose does really need great patience and time. Taras really deserves a great applause for his masterpieces.