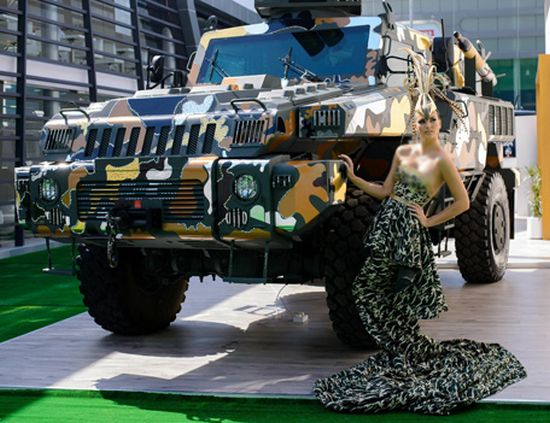 The fact isn't unknown that Marauder overtakes the title of world's toughest vehicle, as per the BBC television show Top Gear, from Hummer beating it in a series of tests. The new title holder of 'World's toughest vehicle gets a new couture fashion makeover in response to its rising popularity and an interest in the consumer friendly version of the Marauder, with too many inquiries coming from  UAE and other Mid-east countries.
Paramount Group's 16 tonne Marauder with mine and ballistic missile withstanding capabilities gets a high-end fashion makeover from the renowned South African fashion designer Gavin Rajah who is also a couture designer for starts like Naomi Campbell, Beyonce and Cameron Diaz.
The fashion makeover of the Marauder includes the application thousands of Swarovski crystals and gold, bronze and chrome colored camouflage accompanied by the by model in matching ballgown and holding a live falcon. The vehicle was unveiled to the thousands of people at the International Defense Exhibition in Abu Dhabi led by the top international models.
Marauder was customized to celebrate its ongoing reign of world's toughest vehicle designed for the peacekeeping and to cope up with the regional instability. Woefully, the vehicle isn't up for grabs to the common masses. However, we assume that keeping in mind the rising popularity of Marauder among the common masses, Paramount Group might consider a lighter vehicle for the general roads in future.