We have introduced many custom motorbikes from various chop shops to our avid motorbike lovers in the past. However, the one here in question might not be a big Harley or for that matter, any other monster from custom shops to woo you with immense power and performance like no other, together with a form that helps you get those sinister stares on the road.
The one pictured above is odd one out, and minimalist in design to say the least. It doesn't come from expert hands but Mark Strunk and his son has built this long chopper together for a minimal budget at disposal. The long bike runs at a top speed of around 55 mph when a man with 200 lbs of weight rides it.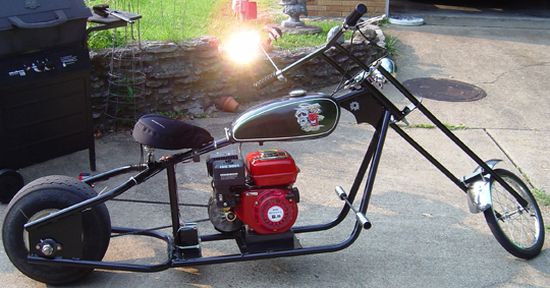 Featuring a frame with engine mounting in the middle with a small fuel tank atop and a very thin wheel at the front while a wider one at the rear end, to help rider balance the motorbike on the go, doesn't make it that bad an imagination, particularly if we keep in mind it's a DIYer take and not something coming from expert hands or a professional bike builder either. Kudos to the duo for this creation!