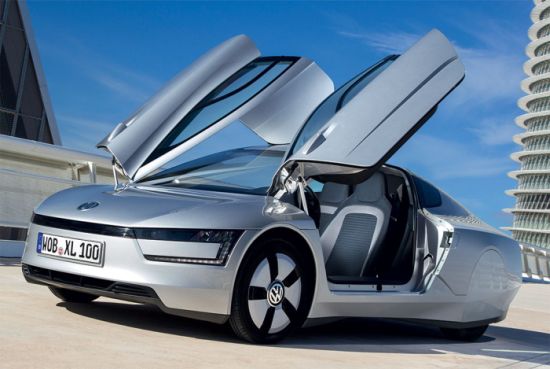 Volkswagen 1L car is in news for a long time. It was shown to the public in concept form in April 2002. Its second version was called L1 and was shown to the public in Frankfurt Motor Show. The third iteration of the same appeared at the 2011 Qatar Motor Show and VW confirmed that its limited production is to start in 2013. Today, VW revealed the production version of XL1 and claims the most fuel efficient production vehicle in the world till date.
Measuring 3,888 X 1,665 X 1,153 mm in length, width and height respectively with a wheelbase of 2,224 mm, the VW XL1 features common rail turbo-diesel 0.8 liter TDI engine that develops a total of 35 kW and 120 Nm of torque. Engine is mated to 7-speed DSG transmission that conduit power to the rear wheels. Further, engine is supported by a 20 kW electric motor located between the TDI and the 7-speed DSG transmission which enables it to cover 50km on a single charge.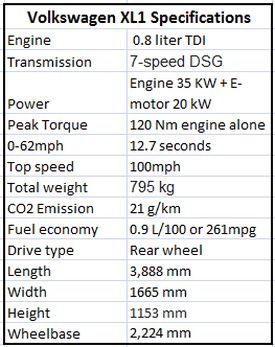 What makes VW XL1 the most fuel efficient car ever build is its fuel economy. It sips merely 0.9 l/100 kilometers it travels or 261-mpg by European standards with its 10 liter tank full. It emits just 21 g/km of CO2 per kilometer and this two-seater diesel plug-in hybrid needs only 0.1 kWh to cover a driving distance of over one kilometer.
Featuring ultra lightweight body consisting of CFRP monocoque chassis, a double wishbone front suspension and a semi-trailing link rear one, VW XL1 weighs 795 kg. The low weight helps it get a sprint from 0-100km/h in 12.7 seconds before reaching its electronically limited top speed of 160km/h.
The production version will be shown at the upcoming Geneva Motor show and it will be produced in limited numbers. There is no confirmation as to how many editions will be made in total or about its price tag either but Autoexpress estimates that annual production is to remain somewhere between 50 and 5,000 models.