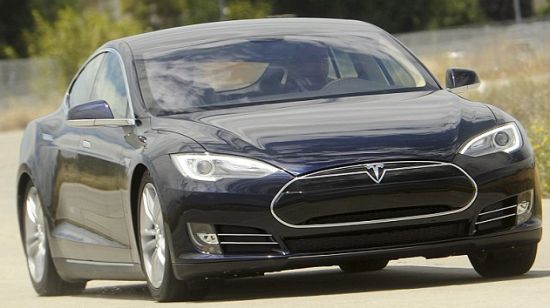 If you are fed up with the harsh sound that petrol and diesel cars produce or their sluggish accelerators (not intended at high end cars) that ask you to press it hard every time you shift your gear knob, I think you have got your answer with new Tesla Model S electric car. Well, yes the car is intended to herald a new era in electric motoring – an era wherein electric cars will come at par with or will outdo their fossil fuel powered counterparts.
This EV is amazingly fast as it does 0-60mph in 4.4 seconds, which outshines BMW 5 series or $127,000 Maserati Quattroporte for that matter. It is capable of covering 300 miles on a single charge that costs merely $10, which can help its owner to, as Tesla claims, save an average of $8000 over five years in fuel costs.
Unlike any other usual car, it has two boot spaces, as there is no engine. Tesla Model S electric car seats five adults comfortably, together with two kids in the optional rear facing seats. The electric car is fast, furious, comfortable, noiseless, fun to derive, eco friendly and looks like an alter ego of Aston Martin.
Featuring 17 inches, iPad-like touch screen that occupants can use to surf the web as well stream radio on the go, comes as a standard. The vehicle has a considerable liking as 5000 models that Tesla intends to build this year has already been sold, whereas the orders for the car has already exceeded 10,000 units.
Well, as we all know that electric cars don't come cheap and Tesla Model S isn't an exception either. EV comes in base and the performance models and costs a whopping $49,900 and $84,900 for both models respectively.
Via: Mercurynews