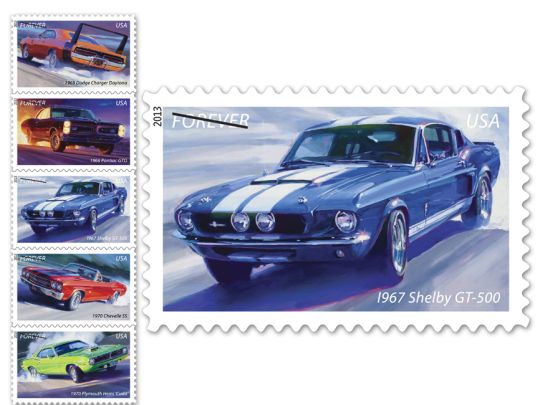 If you have a 1969 Dodge Charger Daytona, 1966 Pontiac GTO, 1967 Shelby GT-500, 1970 Chevelle SS or for that matter, a 1970 Plymouth Hemi 'Cuda parked at your garage, you surely need not to go to the post office to send your mail. You can just sit behind the wheel of any of these muscle cars to make your message reach the destination well in time.
In the other case too, the days to reach you post office to send your mails are over as digital world takes your fatigue away. But still there are times when you need to post your mail and then keep waiting it to reach its destination for a couple of days.
However, with the intent to keep the muscle car lovers visiting the post office, the folks at United States Postal Service have introduced a new series of stamp design, 'Muscle Cars Forever' which is to go on sale on 22 February 2013. The new series of "America on the Move" stamps are designed by Tom Fritz and it consists of five aforementioned muscle cars from 1960s.
Each of the muscle car on the stamp represents the adventurous spirit of the muscle car era. The muscle cars were immensely popular for their eye catching design, enormous power it roared with and they were considerably fast to their predecessors to foray into the American roads in 1960s. These five high performance cars that are depicted on the stamps is all about the adventures spirit of the 1960s which is also known as the era of muscle cars.