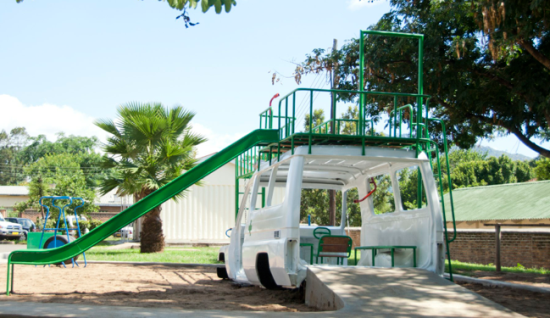 So far we have seen various examples of scrap auto parts being converted into something meaningful – be it art, furniture, transformers or many other things that fit in our day-to-day life. However, what we are introducing you here doesn't relate to any of the above case but one-off a kind imagination. In this case, the scrap auto parts are recycled to provide the pediatric patients (and grown-ups) some recreational tools.
Two designers from Netherlands, Luc van Hoeckel and Pim van Baarsen, have converted a parking space into a playground for the physically challenged children of Malawi. The conversion is done in cooperation with Sakaramenta, which is a social business in the country, using nothing but what is generally left at junkyard to rot and finally destroyed. Providing recreational space for the pediatric patients using scrap auto parts is like killing two birds with one stone. On one hand, it helps an eco soul make his vicinity a better place to live and on the other, it also contributes to noble cause.
The scrap auto parts used to convert the parking space into a playground include a scrapped ambulance which has been chopped and furnished with seating for four children. The other parts like tires, springs and axles are creatively used to give shape to various instruments complete with blowing horns and other things that children generally like or even the disabled children can use. The Ambulance Playground is located at the side of Beit Cure hospital Blantyre and as the parking space is public, it brings young patients directly in contact with the children of the surrounding area.