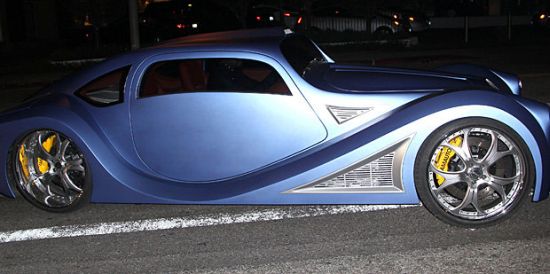 No matter how hard rapper Will.I.Am into making people believe that he's from the future, but his latest ride has retro vibes. We don't know what did really make him think of owning such a car but it's confirmed that he has got it built on special order and he was spotted sitting behind the wheel of this what many call as ridiculous car.
The songsmith, that Will.I.Am surely is, owns this blue, chrome 1930s comic book-style coupe. The car is built partly by Austin and thereafter by West Coast Customs on the special request of Will and cost him a whopping $900,000. The car is believed to have been built on 1958 VW Beetle chassis that has been modified beyond recognition. The work on this odd looking car started back in 2009 and it's still not over. The reason being, Will kept on changing the details time and again.
This old WV Bug in new avatar doesn't have the same heartbeat but a powerful LS3 V8 from Chevrolet Corvette placed on the front, which will surely give this modified Bug a fierce stance. Though we know that money isn't surely an issue with the famous rapper but in this amount he should have better opted for a better car from the vast auto market.