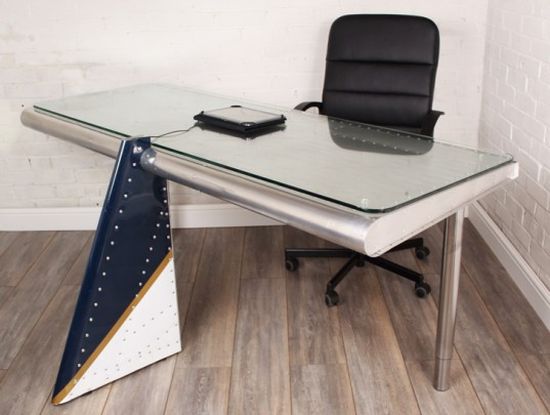 Cabinet made from scrap Mazda parts, BMW boxer engine table as well as a Ronen Tinman's series of furniture made from scrap auto parts, we have seen them all. They are as impressive as any other piece of furniture and good enough to fit in an auto nerd's cave. Here is just another addition to a long list of awesome furniture pieces that will leave you spell bound.
Coming from green designer Max McMurdo who has tried his hands yet again to present the new yet a unique version of his famous Deborah airplane wing desk, the desk is christened after Dragons' Den star Deborah Meaden. The Deborah airplane wing desk takes form out of real airplane wings and is supported by height adjustable legs with a toughened and polished glass atop.
The transformation was carried out at Max's Bedfordshire-based company, Reestore Ltd. and what we get is an awesome table that can fit anywhere – be it your office or your living space. Measuring 1800 X 720 X 600 in width, height and depth respectively, the Aeroplane Wing Desk weighs 100Kg. If you want to own one you need to shell out £2,250. You can book an order here.