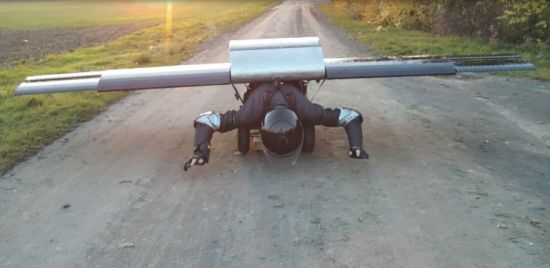 With the intent to fly without the encumbrance of a plane, German Fritz Unger is building one-man jet propelled wing, dubbed the Skyflash. The jet pack, unlike Jetman Yves Rossy's which is dropped from the plane, to take off from the ground on his own. Inspiration to build Skyflash jetpack came from Rossy and world-record skydiver Felix Baumgartner and Fritz started work on Skyflash with some friends and his endeavor was supported by web advertising and donations.
The name for the jetpack comes from Thunderbirds, Skyflash precisely. The wing is to be worn in a similar way as backpack and is designed to take-off from the ground and can claim the title of world's smallest twin-engined plane if it comes out to be successful. Wings of the condor serve as a base and like the bird; it'll have the ability to change its wing positions to harvest various mountain wind conditions.
The wings that measures 11.15 foot tip to tip are made of three units that provide greater surface to support more lift during take-off and finally reunite during flight to support speed and stability. Powering the Skyflash jetpack are two micro-turbine diesel jet-engines placed in the center of the wings. The straps of the pilot have computer and electronics wherein the computer is linked to the 8-inch graphic interface strapped to the pilot's arm and throttle is held on in the right hand. The fuel tanks from the wings are automatically connected to the fuel system when they are installed on the wingbody before flight.
The jetpack weighs 130 kg and climbing and steering are done with pilot shifting his body weight. The cruising speed of the Skyflash is 68 knots, its range at 54 nautical miles with a flight time of one hour. Though the team isn't sure about how to land and says that it will be the same way as the take off but the safety hasn't been compromised as Skyflash incorporates quick release mechanism and the wing body houses a parachute, in case an emergency arises. The Skyflash is in the prototype stage and we wish to see it holding the title of world's smallest twin-engined plane.