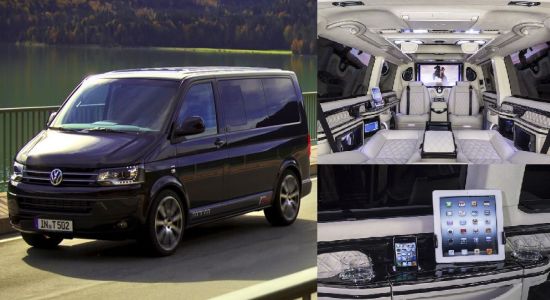 As the Geneva Motor Show is round the corner, not only the automakers are gearing up with their latest vehicles to be showcased, but the aftermarket experts from Europe have also girdled up their loins for the grand Swiss yearly motor show. So, it's not surprising to see aftermarket experts giving an insight as to how the vehicles from various brands can be made look better inside and out, added with more luxurious features and increase their overall performance.  
After presenting an Audi Q3 and a Volkswagen T500 minivan at 2012 Geneva Motor show, German tuner, MTM, is coming to the show with their package for the Volkswagen T300 Van. If you don't find any changes in the exterior whatsoever, you are right. The package deals with the interiors only and believe me, the interior of T300 Van has been embellished with various features that convert it into what can really be called as the comfort zone – something that's the most luxurious houses don't even boast to possess.
Talking about the upgrades, the amenities inside the T300 Van include large flat panel TV, espresso machine, flat folding, ergonomically adapted and air-conditioned seats with leather trim to provide maximum comfort during business journeys. The power of T300 has been boosted up from 204 hp to 310 horsepower and engine is mated to a seven-speed dual clutch gearbox. The luxurious van is also fitted with refined MTM brake system, air system and it's 20″ Bimoto rims that roll with Michelin Pilot Super Sport tires. No specific details or price tag has been revealed about the package. Expect it to come with its debut at Geneva Motor show this year.