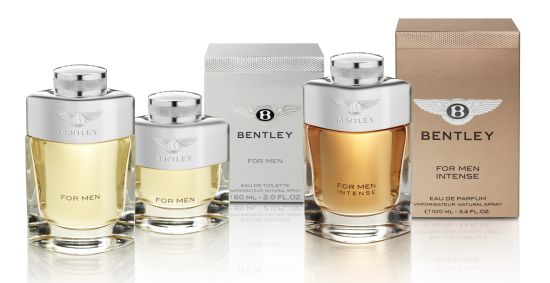 Anything with Bentley badge makes it an instant hit among the ardent fans of British luxury automaker. What if it's perfume? Well, it's gonna woo the fans equally I am sure. The collaboration between British carmaker and French crystal maker Lalique and its owner Art & Fragrance, as per the Director of Licensing at Bentley Motors, 'allows the transportation of core attributes of Bentley into luxury fragrance'.
Two renowned brands in their fields present a new fragrance collection called Lalique for Bentley Crystal Edition and comprises of 'Bentley for Men' and 'Bentley for Men Intense'. This unique Eau de Parfum comes bottled up in Lalique designed exclusive crystal flacon shaped like Flying B on the bonnet of a Bentley. The perfume is created by famous French perfume house, Roberte and the fragrance is a fitting elixir of fine woody notes and exquisite leather which is further enhanced by precious orris butter to add more sensual and charismatic character.
Keeping in mind anything Bentley doesn't come cheap, the perfumes aren't among the exceptions. The limited edition of 999 flacons that goes on sale in April this year is to cost 3,000 pounds for each 40-ml bottle. If you can't stretch to the special edition Bentley fragrance, there are other two options created by French perfume house Firmenich. The French perfume house also started with fine wood and leather notes and Bentley for Men get a blend of cedar and patchouli while the intense version gets African geranium to take those notes to next level.
On the other hand, the full line also includes shave balm as well as hair and body shampoo. The collection will be available at selected retailers with price for shampoo starting from 24 pounds and goes up to 69.50 pounds for the 100ml bottle of Intense eau de parfum.
Source: Bentley