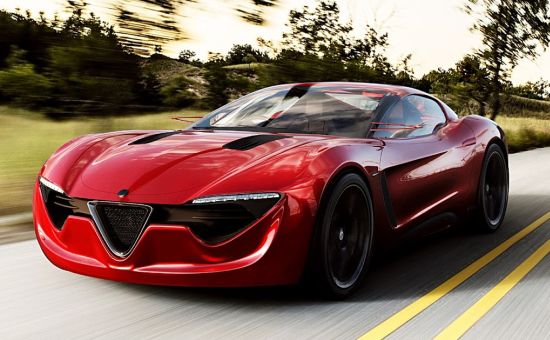 Alfa Romeo 4C coupe is in news for a long time. The result of Fiat-Chrysler alliance, the stunning car is to make its public debut at the upcoming Geneva Motor Show. However, the only thing that might disappoint many Alfa Romeo fans is it's a single model and a limited production run. If Alfa Romeo is serious about putting its challenge in the market to its competitors from Japan, America or for that matter, from Germany, the brand needs to come up with more proposals to woo the masses.
The one here in question i.e. Alfa Romeo 6C Sports Coupe concept from the designer Torino Alex Imnadze seems promising. Automotive design student at IED Torino Alex Imnadze, Torino Alex Imnadze presents 6C Sports Coupe concept that will not only fit in the Alfa Romeo lineup but is sure to win the hearts and souls of the enthusiasts.
Imagined as a classic sports car, the concept is proposed with a front-engine, rear wheel drive setup to put a stiff challenge to the likes of Ford Mustang, Camaro, even Chevrolet Corvette Stingray. Inspiration the design came from the 1948 Alfa Romeo 6C, modern 8C Competizione as well as concepts of the time like Pininfarina's 2uettottanta and Torino incorporated many design cues in the Alfa Romeo 6C Sports Coupe to make it a stunning challenger to send shivers to the spines of German, Japanese and American automakers.