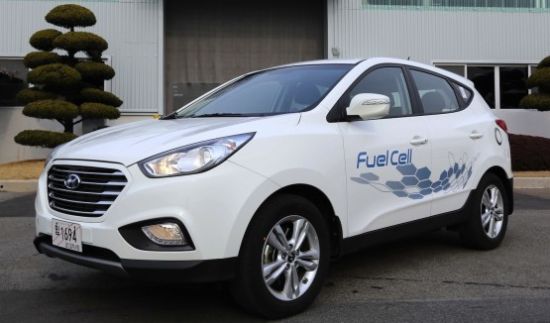 With the intent to revolutionize the world of motoring, Hyundai rolls out what is claimed to be the world's first mass produced fuel cell production car. Christened as Hyundai ix35 Fuel Cell, the launch of the vehicle makes Hyundai as the world's first car maker to mass produce a fuel cell vehicle. The white Hyundai ix35 Fuel Cell pictured here is a zero emission, hydrogen-powered vehicle, incorporating a 100kW fuel cell stack that transforms hydrogen into electricity which propels its electric motor to emit water through its tailpipe.
Such a powertrain makes Hyundai ix35 Fuel Cell get a run from 0-100km/h in 12.5 seconds, en route to its top speed of 160km/h and a range of 594km on a single tank. Aimed for the greener future, Hyundai ix35 Fuel Cell is to be used as a fleet vehicle across Europe while the Korean automaker is committed to make and lease 1000 hydrogen powered ix35 vehicles by 2015.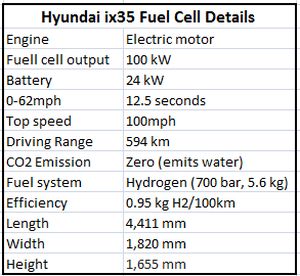 In a time when environment concerns are raging with each passing day, Hyundai ix35 Fuel Cell shows us the way into the zero emission future. Currently the most eco friendly vehicle in the auto industry, ix35 Fuel Cell also makes the dream of using hydrogen fuel cell technology in daily driving come true. The delivery of the vehicle is already underway in Europe as the one here in question is one of the first fleet of 17 ix35 Fuel Cell vehicles going to the fleets in Copenhagen wherein 15 will be delivered in Denmark and two in Sweden.
Hyundai ix35 Fuel Cell is to be unveiled at the upcoming Geneva Motor Show. Though the FCV isn't available for the possible buyers at this moment of time, yet, as Hyundai says, with lowered production cost and improved hydrogen infrastructure is expected to enable the automaker to produce Hyundai ix35 Fuel Cell to the retail customers after 2015.
Source: Hyundai