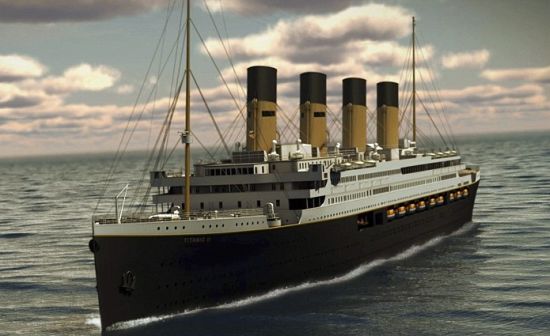 Australian mining billionaire Clive Palmer's Titanic II is the replica of the 1912 original. However, it will be, as its designer claims, the safest cruise ship in the world with ample lifeboats and many updates that includes a stronger hull made of steel composites to the wooden original.
The sequel to the ill fated liner that sank 100 years ago on its maiden voyage, Titanic II is to be made akin to 1912 original inside and out with little upgrades. It will be capable of carrying 2,435 people in total including 900 crew members and will come with 18 life saving boasts with capacity to carry 150 passenger each and four life rafts that can carry 400 people each which is too much in comparison to 20 lifeboats 2200 passengers of the original wherein 14 could carry 65 people each, four of them can save 47 people and two of them could take 40 people each safely to the shore.
The Titanic II will be akin to 1912 original ocean liner aesthetically and will features the same Turkish baths, Cafe Parisien, the two 'Millioniare Suites', the Chart Room, a grand staircase which will be 3 inches longer, no TVs in the rooms and not to include internet is also considered to keep it as close to the original as possible. Rooms will be 1912 styled clothing to bring back the feel of the era gone by. The second coming of original Titanic will be divided in three classes of passengers and they won't be allowed to intermingle.
Titanic II to measure three inches longer to the original at 883ft and to weigh 55,800 tons in comparison to 53,210 with its speed identical to original at 24 knots. The replica of the original liner is to recreate the 'unsinkable ship's voyage in 2016. The new ship will be built by a Chinese state owned company in Nanjing, CSC Jinling Shipyard and its operation will be carried out by Palmer's Blue Star Line – a parallel to 1912 Titanic's White Star Line. The epic voyage which is to last for six days will commence from Southampton, England to New York in 2016.