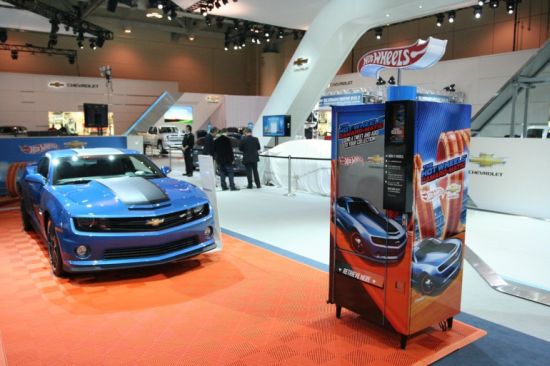 Canadian International AutoShow in Toronto might not be a big hit on the web, but some of the entries on display really impressed the showgoers. One of them is Hot Wheels Camaro-matic Trending Machine which is the result of a collaboration between toy car makers Hot Wheels, Chevrolet Canada and marketing firm TrojanOne.
Now the question arises what's so special about this machine that impressed everyone. The Hot Wheels Camaro-matic Trending Machine is twitter activated vending machine that dispances the diecast Camaros by just tweeting #ChevyCIAS correctly and sending it to @HotWheelsCanada. All the user need to do is to stand in front of the machine and tune on their smart phone Twitter location services to activate the Camaro-matic Trending Machine.
Created to celebrate the 2013 Chevrolet Camaro Hot Wheels Special Edition, TrojanOne modifies the coil dispensing machine to add an internet connection to build Hot Wheels Camaro-matic Trending Machine that dispenses 1:64-scale Camaro models before actively searching for the appropriate string or hash-tag and handle, on Twitter.