If you need to make a big impact when you arrive at an event you need a car that can make a statement. If you currently don't have a luxury vehicle of your own it's not a problem. Luckily for you, there are plenty of rental cars available that are every bit as luxurious as you can imagine. Especially if you only need a vehicle for a short time, renting luxury cars is the way to go.
But how will you know which car is right for you? As you think of luxury what makes you ooze with jealousy? Ferrari is a top-rated luxury brand with many options available to you. If you need some help narrowing down which Ferrari will suit your needs then you're in luck.
With so many details to consider with luxury cars, it may be difficult to sort through the options to decide which is the absolute best option. But you might be surprised at all that Ferrari has to offer you when it comes to rentals.
Why Ferrari?
Any model of Ferrari is a work of art wrapped up into an Italian luxury car package. When a Ferrari is parked, they are almost like a sculpture, the finely crafted materials and timeless beauty are breathtakingly stunning. Even opening the door can be surprising since they are so lightweight and the hinges glide so easily.
But it's when you put the key into the ignition where the experience becomes transcendent. Fair warning: a rental could eventually lead to you purchasing your dream car since a Ferrari drives like no car you've ever driven. With the sensitive reactions and the pulse of power, you may never want to go back to a car that isn't a Ferrari.
Every single Ferrari is made in Maranello, Italy where the first Ferrari was manufactured in 1947. Because these cars were originally designed for racing, they have a reputation for being sleek and fast. These vehicles are as aerodynamic as they are beautiful, and the modern versions are designed for the road while maintaining their extreme power.
With little to no lag, every Ferrari feels turbocharged. If you are looking for a rental that will turn heads, demand selfies, and command respect then a Ferrari is definitely the right choice. So when you're sure you want a Ferrari, it can be complicated to then decide which model of brilliance you would rather show off in.
2020 Ferrari Portofino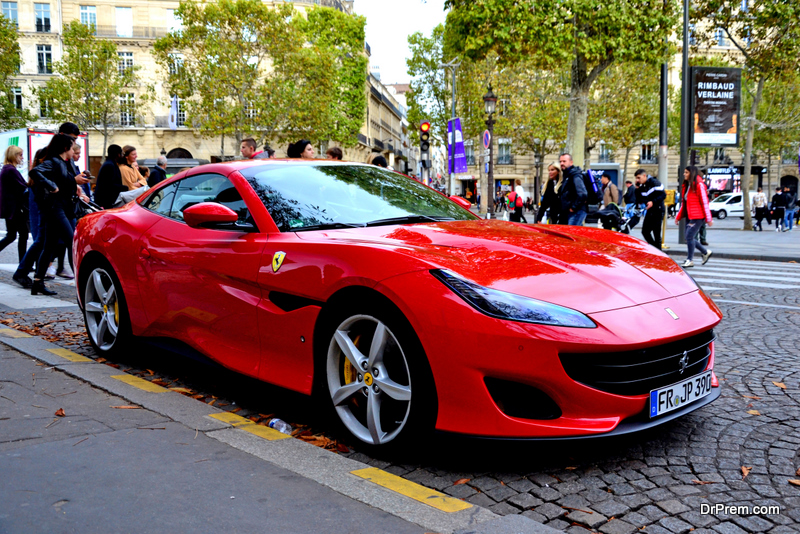 The Portofino is Ferrari's entry-level model but that doesn't mean it skimps on details or power. Let's face it: any Ferrari is still cooler than a basic model of a non luxury brand. Under the hood is a 3.9 liter twin-turbo V8 just like the Tributo so it still packs a significant punch of power.
Each seat has 18-way power adjustability so you're bound to be comfortable. Have you ever been able to adjust the front thigh support of a car's seat before? If you rent the Portofino plan on taking some time to make sure you're getting the lumbar support and all the other settings perfectly aligned to your preferences.
Another amazing feature? The Portofino is a convertible perfect for a cruise up the Pacific Coast Highway in style. If you are hoping to rent a luxury vehicle for a beautiful drive with the wind in your hair then the Ferrari Portofino just may be the car you're looking for.
However, the Portofino is a 2 door car, and while there are rear seats, they are so small that most reasonably sized adults would not be comfortable. So if you're looking to transport a party of 4, keep looking. The Portofino would be a great rental car for a special romantic date!
2020 Ferrari F8 Spider
With a brand new look, the 2020 Ferrari F8 Spider is a terrific option for a rental car. If you're looking for open-air driving that mixes well with power. If the Ferrari Tributo was tempting then the F8 Spider should interest you: it's basically the same car only in convertible form. The retractable hardtop can completely retract in about 20 seconds.
One of the new prominent features is there is a special "S-Duct" in the front of the Spider that pipes air through the hood of the car and intensifies the downward pressure on the front wheels. This means the downforce of the Spider is amped up, which will let you turn through corners faster with more grip on the road. Ferrari has not skimped on the aerodynamics with the Spider!
Like most luxury sports cars the engine is in the back, but the Spider does feature a front-end cargo space. With just enough room for an overnight bag or a few smaller totes, you can travel in the Spider, so long as you are okay packing light! If you're looking for a chance to rock a luxury car rental Ferrari's F8 Spider is great way to get your stick shift on!
2020 Ferrari 812 Superfast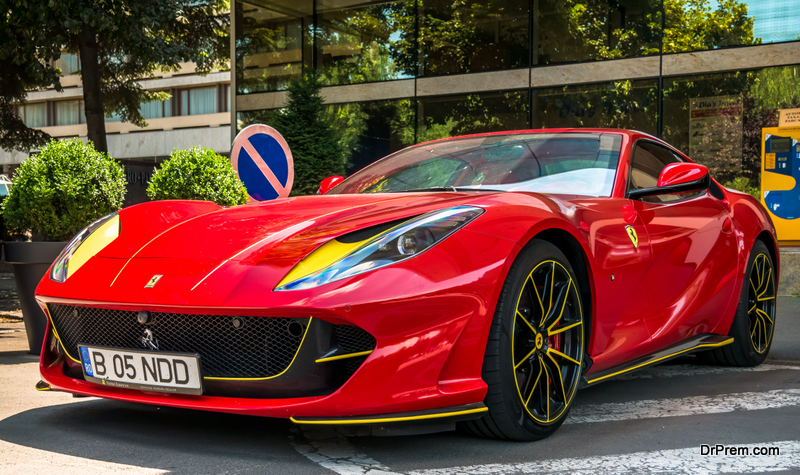 Reliving your favorite moments from classic movies in Beverly Hills in Ferrari 812 Superfast. While you're cruising you're going to get an awful lot of attention because of its stunning aerodynamic look. With its relatively generous cargo capacity, the 812 Superfast is perfect for a getaway. (And the car handles spectacularly.)
Classic car with a 6.5 liter naturally aspirated V12 engine, the 812 Superfast is, in fact, super fast. But where this car falls short, even in the lap of luxury, is its fuel economy, you may have to fill up more frequently. But with its 7-speed dual-clutch gearbox and four-wheel steering having a chance to drive this car will put a smile on your face.
As one of the most expensive new cars on the market, renting one may be the way to go to experience driving a vehicle only a privileged few will have the chance to try out. 812 Superfast also features an excellent sound system with 6 brilliant speakers so you can rock out to your favorite tunes as you drive your new favorite car.
2020 Ferrari F8 Tributo
One of Ferrari's newest models, the F8 Tributo is a dream to drive and ride in. Featuring a powerful 3.9-liter twin-turbo V8 engine that can pack 710 horsepower and 568 lbs of torque, this beautiful car will be unlike anything you've ever experienced. In fact, the thrust from the engine is so great you may never even get to full throttle!
Because this is a brand new model, you will certainly be one of the first of your friends to show up to a party in a Ferrari F8 Tributo. Named as an homage to the most powerful V8 engine in Ferrari's legendary history, this amazing car is a celebration of excellence. The Tributo is a closed top car, so if you want power but still want your hair to look nice, this is the choice for you.
If you're looking for a nimble car that most people haven't ever seen before (since it's a new release after all) this F8 Tributo is definitely a great choice. You're not likely to enter into a race in a rental, but in case you're challenged you can rest easy knowing this engine will win.
Conclusion
Renting a Ferrari can be the best way to experience driving a luxury car without having to purchase one. If you have a big event in your life, a wedding, reunion, or maybe celebrating a milestone birthday or anniversary, renting a Ferrari can help you arrive in stunning style.
Renting a luxury car can require some extra insurance because they are much more difficult to repair so be sure to get that sorted out prior to driving away from the rental desk. No matter the model of Ferrari you choose, your experience driving one will be unlike anything you've ever experienced before.
Article Submitted By Community Writer