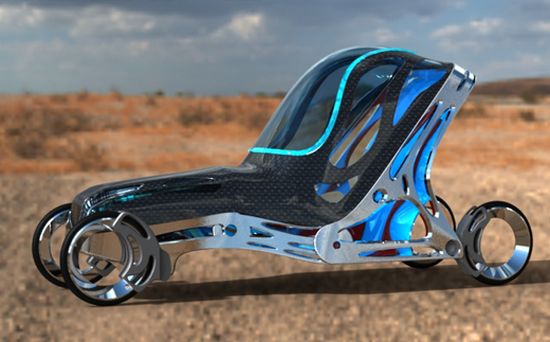 As the city space is increasingly cramped with the number of vehicles increasing on road every day, it is but necessary to have vehicles that occupy less pace on road and are easy to park too. To solve this problem, designers across the world have repeatedly proposed the concept vehicles that are compact, easy to drive through congested roads and fold to park in a minimum space anywhere.
Mexican designer Eduardo Díaz Tostado imagines a vehicle for the year 2040 wherein this problem will be even more gruesome. The vehicle is dubbed as the Personal Folding Urban Vehicle or P.F.U.V. in short and deals with the major problem among every city in future, space.
The PFUV is merely 30% longer than a standard bicycle with the ability to fold itself when it's not in use, thereby reducing its space occupation to a bare minimum. When the Personal Folding Urban Vehicle is folded, it can be stacked in front of one another. P.F.U.V. is also to reduce the use of car for personal commutes which remains parked the whole day to consume the maximum parking space.
On the other hand, the P.F.U.V. has eco credentials to the core. Powering this ultra futuristic vehicle are electric motors on each wheels to provide the zero emission commutes to one person.  For making the vehicle, the high tech materials, metal ceramics is proposed and the holes in the body structure are strategically located that not only provides maximum strength but also helps keep the weight of the vehicle to a bare minimum.