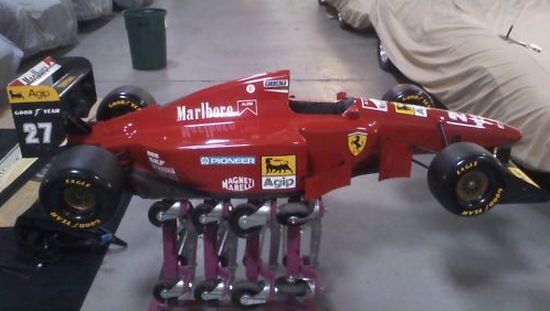 If you are a Formula One fan and loves everything Ferrari, this is the right deal for you. Yes, you can own a Ferrari built F1 test car right now and if you think anything with prancing horse doesn't come cheap, you are wrong. You can own this F1 test car for a meager amount of $24,999. However, it's a small catch. Yes, you read it right. The Ferrari F1 car here in question is half in size to normal F1 car.
Hope you won't mind it for the reason that it's original Ferrari F1 car used for aerodynamic testing in a wind tunnel to develop an F1 car design for next season. With original Ferrari production, the half size Ferrari F1 features carbon fiber body and measures model 6' 4 inches long and 35 inches wide. While the car is too small to accommodate a person inside, it's good enough to satiate your desire to own an original Ferrari F1 car.
If you are interested, you need to hit the eBay page to take this elegant piece of motorsports history to your home. But don't forget to keep 25 grand at your disposal.