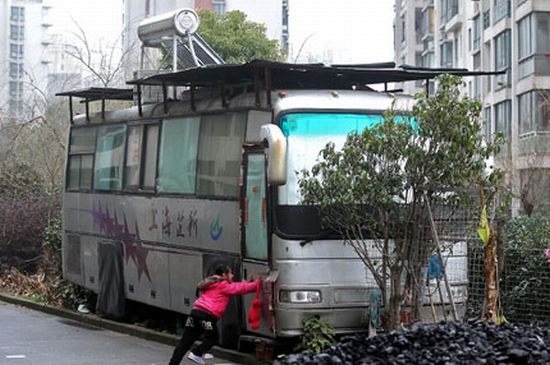 There are homes on wheel that are for the people with hoards of cash and that's just getting dust. However, some creative minds across the world have also applied their ingenuity to create home on wheels out of necessity. One such example is here. Created by a Chinese who couldn't afford to rent an apartment, the home inside the old tattered bus not only shelters a family but also have eco credentials and that's, again, out of necessity.
An unemployed mother surnamed Zhang, a cancer patient in 30s, with her husband, Sun Jie, 39, has converted this rugged bus into a home to live with her family. The exterior of the bus remains dirty and rugged but it's a fully furnished vehicle inside complete with TV, computer, a kitchen and a bathroom.
As we said in our initial lines that the bus home has eco credentials and yes it does contribute to make this earth a better place to live. All the equipments of the home are powered by solar energy and is a safe home for her family for the past two and half years. The bus home remains stationary and illegal but its transformation into a solar powered dwelling surely does show the Chinese creativity and is just another embodiment that everything Chinese isn't cloned.
Via:  Ecochunk / Shanghaidaily