Are we there yet? For kids, riding in the car during a seemingly endless journey is a rite of passage. While the destination is (hopefully) well worth the wait, parents know it can be nearly impossible to keep little ones content for miles and miles on the road. But you might be surprised to find that there are some easy things you can do to keep kids entertained, whether they're toddlers or teens. With the following tips, you might even enjoy a few hours of complaint-free travel.
1. Mount Their Tablets
Don't get us wrong — it's probably not a great idea to let the kids enjoy unlimited screen time on long drives. But if there's one time a little cartoon watching can benefit the both of you, it's probably in the car on long, boring drives. Installing an iPad® mount in the back seat is a simple way to keep your setup neat and to create an environment where more than one kid can share a single screen. 
2. Install Video Game Consoles
Who says you can't travel with your plug-in consoles? If you've got older kids who would happily spend hours of the journey engaged in a video game, you might want to go big and consider installing their gaming consoles in the car. It sounds complicated, but it's surprisingly easy, especially if you have a car power inverter and media center. If your kids have wireless gaming consoles, such as a Nintendo® Switch, make sure you set up a convenient charging station so they never run out of power. 
3. Bring on the Screen-Free Activities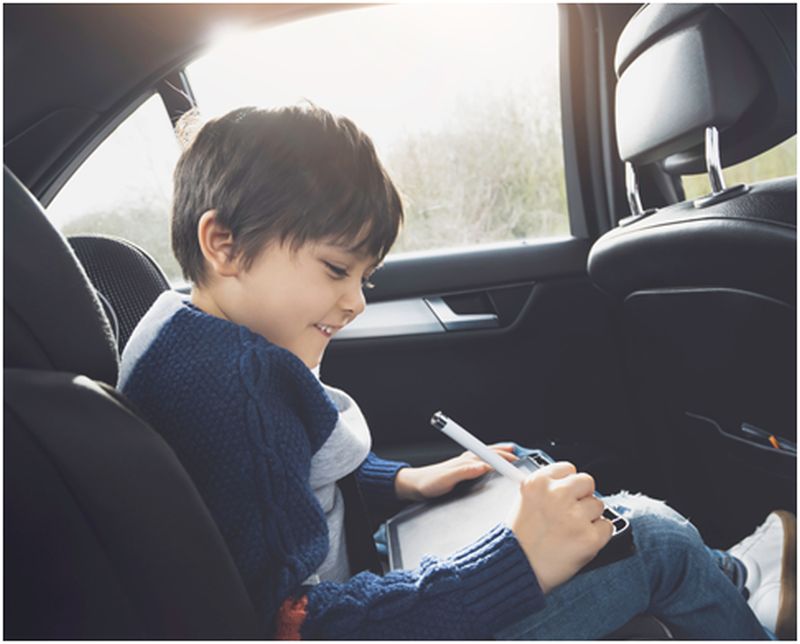 There's no denying it: a little tablet time can be a true lifesaver when you're on a long drive, especially with toddlers and little ones. But you don't want to rely too much on technology. Luckily, there are many things you can do to keep the kids entertained without phones and tablets. Some of our favorite ideas include: 
·        Sticker books (ages 2+)
If quiet time is what you're after, consider bringing along a few sticker books for the kids. These always keep toddlers and little kids fully engaged, but we can't guarantee you won't find a few stickers around the interior of your car at the end of the drive!
·        Road trip Bingo (ages 3+)
This brilliant game encourages kids and adults to spy common travel sights, from state lines to railroad crossings to police cars. You can even print your own travel Bingo cards. 
·        Sketch books (ages 6+)
Older kids may enjoy spending their time in the car doing arts and crafts. Stick to colored pencils to prevent any serious messes from happening in the back seat. You might even encourage the kids to write postcards to friends and family back home. 
·        License plate game (ages 6+)
The license plate game is an all-time road trip classic! The idea is to try to spot license plates from all 50 states. Whoever finds the most gets to pick the music or podcast.
4. Listen to Podcasts and Audiobooks
Podcasts and books on tape are a must for grown-ups who are looking for safe driving entertainment, but they can be surprisingly effective at entertaining children, too. Use your favorite podcast app to queue up some kid-friendly pods, such as Stories Podcast, Fierce Girls, Planet Storytimeor Story Pirate. These days, you'll also find that many of the top kids' books are available in audio format, which is great for long drives. 
5. Use Back-of-the-Seat Organizers
One of the key things to remember when planning kids' road trip activities is that you want to keep them entertained but not create any extra chaos or distraction for the adults, especially the driver. If you're the sole adult and you're responsible for driving, navigating and keeping the kids entertained, make sure you set them up for fun in a way that's easy for them. Install car seat organizers that hang over the driver and passenger's seats so they have access to everything they need — snacks, water, games, devices — without having to ask you for anything. 
6. Make Rest Stops Fun
Who says bathroom breaks must involve boring interstate pull-offs? There are so many excellent places to stop along your journey, from exciting parks to zoos, aquariums and playgrounds. As long as there's a place to play, have a snack and use the bathroom, everyone will be happy! If you're looking for the all-out quirky, plan your route with Roadtrippers or Atlas Obscura and add in a few unique roadside oddities along the way. Who can resist stopping by the world's largest ball of twine or peanut? 
7. Curate the Perfect Playlist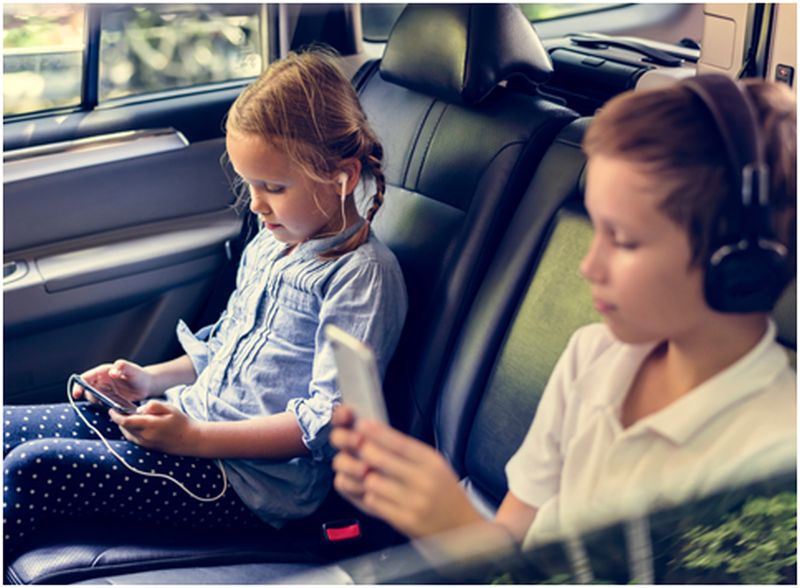 Adults know that time in the car is the perfect time to dive into a great playlist. Whether you've got little ones who are huge on kid-friendly music or want to introduce the older kids to your favorite standards and classics, long drives are a great place to do it. If you can't seem to find a genre or artist that suits everyone, consider playing the pass-the-playlist game, where everyone takes a turn picking their favorite songs. Consider getting everybody their own pair of earbuds so they can listen to their own music.
8. Make the Car Homey
Never underestimate the power of a good car seat nap! Encourage the kids to snooze part of the time with all the comforts of home, including cozy pajamas and a blanket (make sure it follows safety protocol if your child is in a car seat). Take along a portable air purifier to keep the air clean and fresh and get rid of those road-trip smells that accumulate.
Long drives are a great way to show your kids the country without spending a ton of money, so don't be scared off by the idea if you've never done it before. Just make sure to plan ahead and keep the car stocked with everything your family needs to stay comfortable and happy. Follow the above tips to make any journey fun, entertaining, safe and — most importantly — memorable!
 Article Submitted By Community Writer