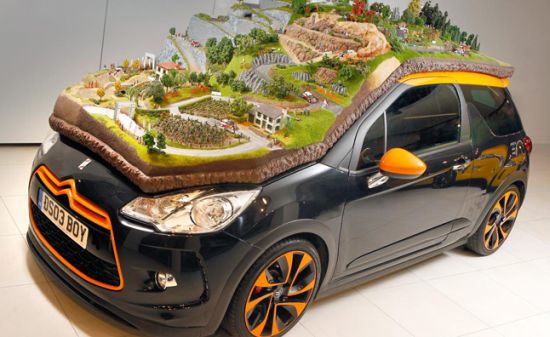 Citroen is known for doing things differently. The French automaker usually comes with something weird but that's, always, unquestionably cool. This time too, it comes up with something that you would surely drool over. In order to celebrate Loeb and Elena's nine World Rally Championship championships, Citron creates a meticulously detailed commemorative diorama, spread from bonnet to the last tip of the real life DS3 roof.
The nine-part diorama is in 1:43 scale and has almost everything ranging from the snow and ice Rally Finland to the iconic ruins of the Acropolis Rally. The artwork is designed and built by Kieron Barter of Funky Lemon Design and it's a labor of two months to meticulously mash together numerous rally circuits one from each of the nine years.
What's even interesting is the fact that each rally terrain features one of the duo's race winning cars from 2004 onwards and the Citroen Xsara. On the top of this, the eye to details is what really deserves applause for it incorporates almost everything that one finds on a real rally stage – ranging from spectators to flowers, shrubbery and even dust clouds. The Citron Diorama is currently on display at the Society of Motor Manufacturers and Traders and will be on tour to every Citron dealership in France the whole year.