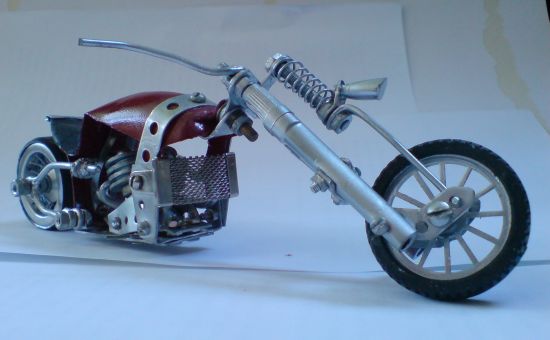 Passion for motorbikes isn't all that new and we have seen people going crazy to own one of their choice. But the passion doesn't stop here and there are people who have created diecast models that sometimes are functioning ones. However, there are also crazy bike nerds who go on creating the scale souvenir models from the things that otherwise aren't commonly used.
The working suspension for the second scale souvenir model features fork that fits in a ballpoint pen body, while the third differs from the second with one sided swingarm and unusual frame built from velosipedi and it's fixed strongly with 2.5 screws. Each model paves the way for the next one and is created better and took less time than the previous one. Some of the motorbike souvenir models, with its parts like real wheels and functioning suspension, differ from each other.
Additionally, parts like aluminum plates made from an old bucket and frame of bicycle chains for the eighth model make these models stand apart from the rest. All the models are meticulously created to bring the aura of motorbikes to the fore. No more words, let the images do rest of the talking.