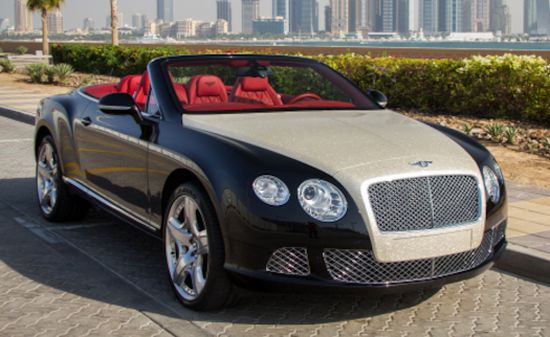 Gold plated and gilded cars are common in Gulf countries. They are spotted every now and then. If one more comes out, is it surprising? Not at all! The petrodollars have made the populace of the region immensely rich to afford the blinged wheels. The car used this time is from the British luxury automaker, Bentley. The model is Bentley Continental GTC that gets a gildedmakeover for the Big Boys Toys event in Dubai.
On road since its debut at the 2012 Geneva Motor show, the Bentley Continental GTC is coated with 32 layers of 101-carat diamond paint by Swiss company Luxury Refinish. Unlike many other diamond studded cars, the coat from the Luxury Refinish on Continental GTC has diamonds straight from the mines and of course, it requires meticulous efforts and a considerable level of patience to get this process through to give an immaculate finesse.
The malleable size diamonds, but large enough to retain their brilliance, find place on the bonnet of Continental GTC. The warmish coat is then applied to each diamond filament that are as much as 50 micro-metres in size and thin layer one upon the other has been applied thereafter to make sure that diamonds are spread in an equal proportion.
The diamond coating of Bentley Continental GTC took months to complete and such an effort, undoubtedly, doesn't come cheap. If you want to own one you should have pockets deep enough to support your desire as the possible buyers need to shell out $200k mark for a Bentley Continental GTC plus the extra for the diamond painted bonnet.
Via: Crankandpiston