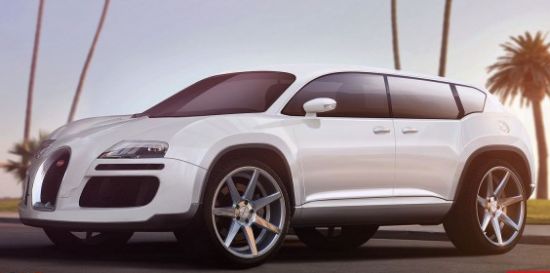 As Lamborghini with Urus and Bentley with EXP 9 F are to foray into the SUV market, it remains to be seen how their competitors answer. With the race going on to explore the new markets, it remains to be see who is next to put their challenge forth to claim the vast SUV market pie.
Keeping this thing in mind, Virtual tuner, Glacius Creations, has created what it calls the speculative render of what Bugatti might put forth if it ever takes the proposal to create a Veyron Sports Utility Vehicle on the table. The render doesn't look that bad either and it won't be an exaggeration to say that it's imagination worth commercialization.
The image reveals a big Bugatti Veyron Sports Utility Vehicle that surpasses current market rulers like Range Rover and Porsche Cayenne and even the upcoming SUVs from Lamborghini or for that matter, Bentley.
Talking about the design, the front of the SUV resembles to that of Bugatti Veyron which has been magnified. The rest of the body shape remains identical to a normal SUV. The Bugatti Veyron SUV render seems to propose the five seat layout and is fitted with Vossen Wheels. The designer didn't provide any powertrain details but we imagine that it will feature an engine that will be outputting at least 1200hp of Bugatti Veyron SS if not more.