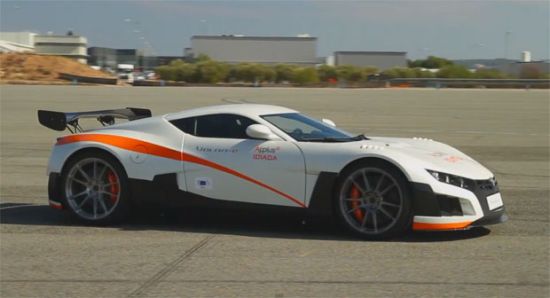 Even when the first electric car was created during the last decades of 19th century, they failed to gain a considerable ground over the years as people aren't still serious about trading their gas guzzlers for electric carriages. However, European Commission (EC) comes up to rescue and to change the mindset of people towards the electric car. The EC presents the new VOLAR-e high-performance electric sports car that is sure to give you goose bumps behind the wheels, if not going to change your mindset altogether.
Designed and built by the Applus IDIADA, the VOLAR-e electric car reserves its spot in the league for one of the most powerful electric car ever built. The reason being, it is powered by four independently controlled electric motors that generates a whopping 1000hp. This much of horsepower enables it to get a sprint time of just 3.4 seconds for 0-62mph and it has reached a top speed of 186mph which also makes it claim the supercar title.
What makes it even more desirable is the fact that it comes with a battery pack that can be juiced up in just 20 minutes and regenerative braking system that adds more juice to its battery every time you press the brake pedal. The VOLAR-e electric car can be driven in one of the four driving modes: Eco, Dynamic, Racing and Wet. However, the company didn't yet specify the difference between the driving modes.
Developed in just four months, the VOLAR-e electric car is the result of collaboration between European Commission, which provided half of the funds for the project, and Spanish design firm Applus IDIADA. The electric car made its first public outing at Circuit de Catalunya, in Spain this week and is aimed primarily to keep up with the conventional racing vehicles and help change the attitude of people towards the electric vehicles.