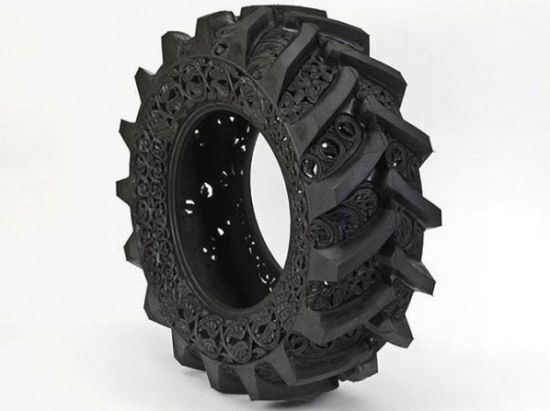 They say creativity knows no bound, only sky is the limit and quite true. Creative people find novel ways to give their fancy of mind an outlet to carve things on objects that otherwise were never considered for such a purpose. Here is just another embodiment that to prove the statement is as true as it was when coined.
The amazing art pieces come from the Belgian artist, Wim Delvoye. This man, I must say, is a creative genius through and through. What he has come up with is nothing short of a marvel and takes the art on auto related objects to next level.
In his series entitled Pneu, Win Delvoye crafts intricate floral pattern with the precision of a cabinetmaker wood carvings on tires of trucks and cars, thereby transforming them from rolling objects to wonderful pieces of art. The extreme artist, Wim Delvoye, has great penchant for art and before he actually transformed the tires into art pieces for everyone to appreciate, he learned the skill of traditional tattoos from weaving, passing through the ceramic, glass and steel to pursue his idea to perfection.