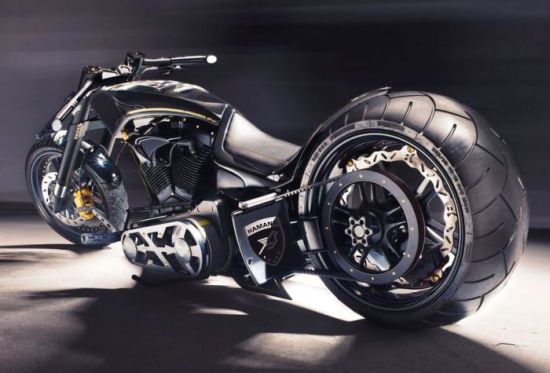 It was just a couple of months back Hamann memoR MP4-12C – a McLaren 12C Coupe based art car appeared on the web to surprise everyone. However, keeping on its surprise mania on, the aftermarket specialist this time comes up with a spectacular motorbike which it built for the 2013 Geneva Motor Show. Christened as Hamann Soltador Cruiser, the motorbike is elegant and a real road scratcher.
Featureing Hamann logo on frame, rocker, air filter, exhaust and rims, Hamann Soltador Cruiser also features a special livery depicting the moments from the Porsche's history. Powering the Soltador Cruiser, Hamann borrows 160hp Harley Davidson Twin Cam B 1900 cc engine with machined channels, valves and valve seats.
Engine is aligned with 6-gear Harley Davidson gearbox that enables it to get a sprint from 0-62mph in 3.3 seconds. It weighs 290 kg with empty fuel tank and 305 kg when with full fuel tank. Hamann says that Soltador Cruiser will be limited edition and will cost 120,000 EUR for the expected buyers.